Crepe Erase cream is made with an exclusive ingredient called TruFirm Complex, which helps the skin make its elastin.
It is a high-tech mix of essential phytonutrients that protects the skin's structure and fights the effects of aging and UV damage. It comes from apple, dill, and sage, all found in nature.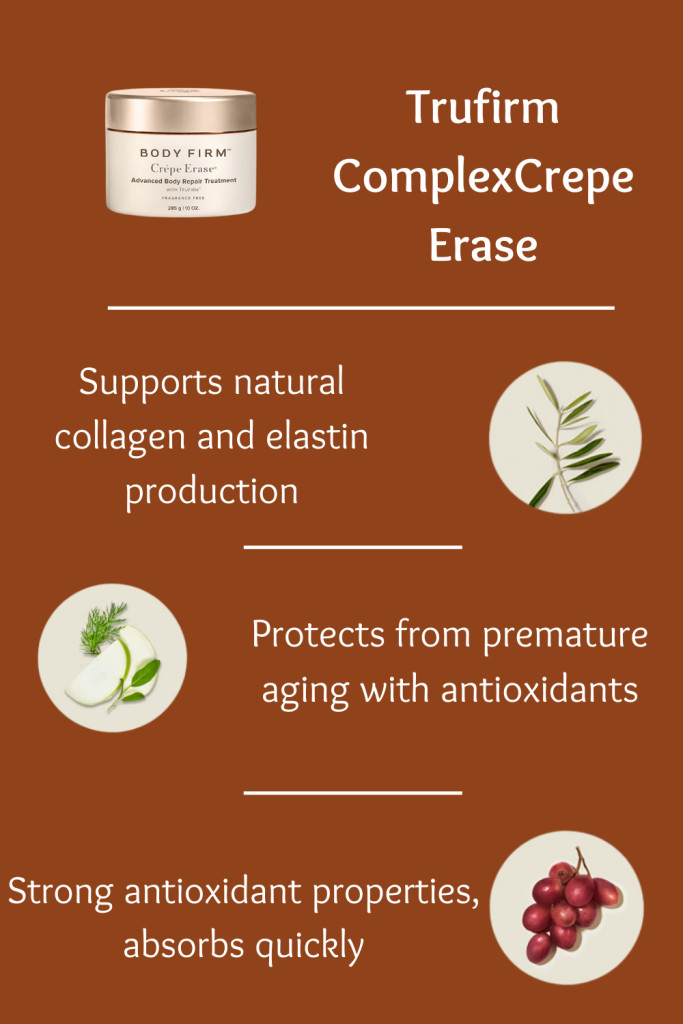 It helps the body make more elastin and keep its structure strong, so the skin looks firmer, smoother, and healthier. Here we have provided the brief of Crepe Erase cream TruFirm Complex. Keep reading!
Features of Crepe Erase Trufirm Complex Cream
It works on areas that show your age, like your arms, knees, legs, and chest. It makes your skin smoother, more even, and firmer, so it looks healthier.
It helps with dry, flaky skin all over the body.
It enables the body to make more elastin, which gives the skin a firmer, smoother look.
It leaves skin hydrated and has a formula that soaks in quickly.
It keeps skin from getting old too fast.
Three Positive User Experience
I've been using it for about 30 days and have noticed a significant difference. I am a 60-year-old woman in reasonably good shape who has "crepe" skin. What is important to remember is the importance of exfoliating in the shower with either the product they sell or any other exfoliating product – and it should be done at least every other day, if not daily. Following up with the cream, I noticed a significant difference. I intend to keep using this product.
I've been using Crepe Erase for over a year, and I love it. I started using the advanced formula, and I love it! It adheres to the skin and covers better than the original.
My skin is smoother now. I am 63 years old and want to stop as much of getting older as possible. The scrub and the intense lotion work so well together. My hands are once again smooth and soft. The skin has become smoother.
Three Negative User Experience
I was desperate to believe in this product. That is why I was willing to put so much money into it. Like many of us, I had tried everything else. I read everything about this product before making these purchases. But, like all other products, there is nothing available over the counter or on the internet that will solve this problem. Keep your cash.
I've been using this product for three weeks and haven't noticed any difference. I was hoping for a refund because it was a little pricey. I'll give it some time hoping it will eventually work.
The cream is thick and sticky. Not easy to soak up. The first one was better. I don't think this works better than any other firming body moisturizer.
Final Words
After using Body Smoothing Pre-Treatment, put Advanced Body Repair Treatment on clean and dry skin with creepiness. Massage in upward, circular motions for one minute or until all of the oil is absorbed. Before the end of the day, put it on dry skin one more time.